The new frontier: Triton Bay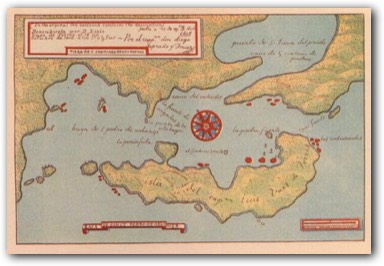 Far to the southeast of
Indonesia
and outside of the
Raja Ampat
area is situated a dive area few insiders have heard of and only a handful of divers have visited:
Triton Bay
at the southeast end of New Guinea's bird's head peninsula.
The Spanish explorer Torres visited the bay in 1606 after sailing through the Torres Strait between Australia and New Guinea, which bears his name, and spent some time in the bay making makeshift repairs to the ailing ships of his small fleet. Torres also made the first map of this bay.
After Torres' visit in the 17th century, the Papuan tribes living there received only occasional visits from slave traders from the western Sultanate of Tidore, who collected captives from the local war lords in order to sell them as slaves in Tidore or Ternate.
This did not stop when the Dutch snatched the lucrative spice trade from the Portuguese from about 1663 on and established themselves on the western Moluccas.
Although the Dutch also came occationaly into this region, they ultimately showed no great interest in this area, which was of no economic interest to them.
In 1828 the Dutch corvette Triton sailed into the bay and its captain, Lieutenant Steenboom, could think of nothing better than to call the scenic bay Triton Bay.
Only in 1874 did a European return to Triton Bay: a Russian named Nikolai Nikolayevich Miklucho-Maklai.
At that time, Miklucho-Maklai was something like a Reinhold Messner today. He came from an impoverished Russian noble family and had studied in Heidelberg, Leipzig and Jena. In Jena he met the German naturalist Ernst Haeckel and accompanied him as a young student on his research trips to the Canary Islands. After that, Maklai made his way to the Red Sea and Arabia on adventurous paths and disguised as a Muslim.
However, his most adventurous and most dangerous journey was his solo stay of about a year in Astrolabe Bay on the north coast of New Guinea. After he returned relatively unscathed from there after a year - apart from a chronic malaria infection - he became the star of the discovery and research scene at the time.
In 1874 he managed to equip another small expedition with the help of the Dutch governor in Batavia and the Sultan of Ternate. After an adventurous journey Maklai arrived in Triton Bay and built a hut at Cape Aiwa, at the entrance to Triton Bay, and lived for several months in an area that was far from safe due to ongoing tribal warfare. In the end his camp was attacked and after returning home from one of his expeditions he found some of his crew dismembered and incomplete on the dissection table in his devastated hut. Without a doubt, this story would have enough potential for an exciting documentary.
Only at the end of 2006 did the name Triton Bay appear again in the media. In the spring of the same year, an expedition by the
WWF
and
Conservation International
discovered 52 new animal species in the Vogelkop area. What was not disclosed to the public at the time, however, was the fact that, in addition to the Raja Ampat area, the expedition had also visited Triton Bay, which, in the eyes of the scientists involved, represented the real surprise of this expedition in terms of biodiversity. In order to protect the bay from being plundered by the ever greedy fishing trawlers, which are omnipresent also in this remote region, it was agreed to not mention Triton Bay in all publications. Therefore, on my first visit to Triton Bay in 2007, I also had to pledge not to publish any information about this new hotspot of marine
biodiversity
in Indonesia.
In the meantime, the protection status of the bay has improved and Conservation International has set up a permanently operated research station at the entrance of the bay - just opposite one of the best dive sites - which now ensures adequate control of the area.
The map shows the approximate course of my second journey to Triton Bay in April 2009. The starting point was Sorong at the north-western tip of the Bird's head peninsula. From there we went first to Misool and then via the Pisang Islands to the Momon Waterfall and then to Triton Bay. Two years earlier, the tour also started in Sorong, but ended in Kaimana, which is only a few hours by boat from Triton Bay and which has a small airport.
The outward or return flight from Kaimana is always associated with a certain risk. Getting in or out is a pretty uncertain matter, even by Indonesian standards. In any case, you should allow enough time before your return flight to Europe or the US to be able to buffer a somewhat longer stay in Kaimana if necessary.
Dive Sites of the Bird's head peninsula
If you start your live aboard trip to Triton Bay in Sorong, the first stop on the way south is usually Misool. There you can either dive the reefs in the southeast or - which I would definitely recommend - you make the detour via the west side and visit the Blue Water Mangroves, where you have to beware of the saltwater crocodiles.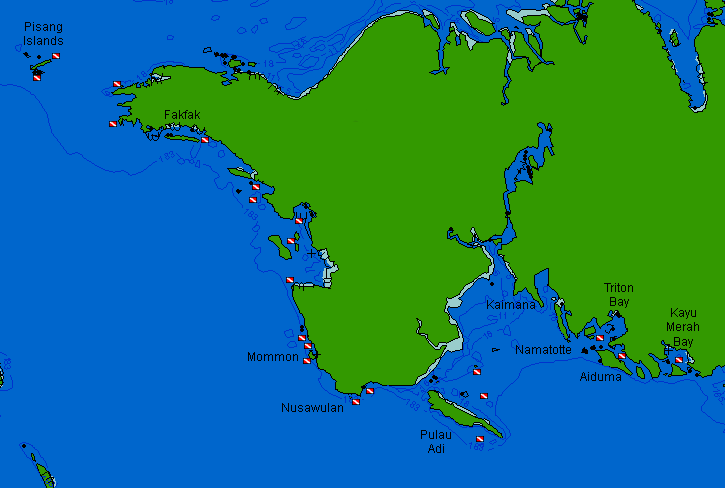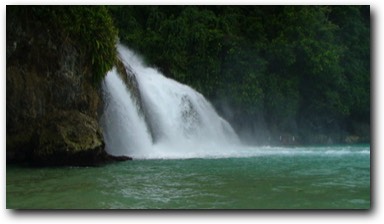 After that, the journey continues southeast to the Pisang Islands (Pulau Pisang), which are reached in the morning after a night cruise. Here you will find interesting rocky landscapes and walls under water as well as flat reef areas with good coral growth.
Diving4Images'
Graham Abbot has had superb dives here with large schools of fish. However, I was less fortunate during my visits to these two islets off Fakfak. All dives were in the 'quite nice' category, meaning relatively few fish and, apart from many nudibranchs, few critters.
After another night the ship arrives in the morning at the spectacular Momon waterfall, which plunges from a height of about 15m out of the dense jungle directly into the sea. There is an opportunity for great photos and bathing under the waterfall.

In terms of diving, the area offers rather average diving and those who can do without the waterfall should consider going directly to Nasawulan to do some dives there. Here you can find many black corals at shallow depths and, with a bit of luck, yellow pygmy seahorses.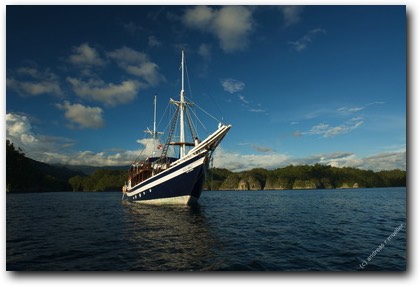 The next morning you arrive in the picturesque Triton Bay. Most live aboards anchor - like Torres 400 years before - in the lee of the island of Aiduma at the entrance to the bay. This is also where the Conservation International research station is located, whose lights can be seen on the hillside in the evening.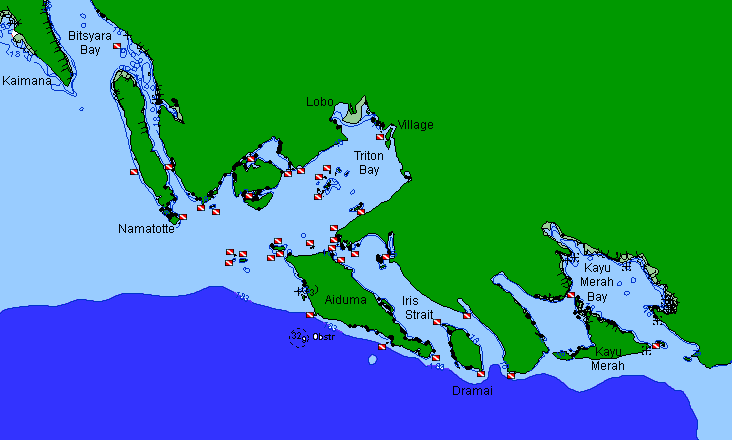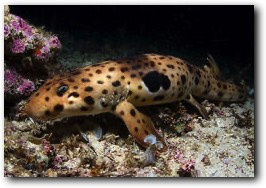 The dive sites in Triton Bay are some of the best Indonesia has to offer underwater. Here you can still find completely untouched reefs, huge schools of fish and remarkable groupers of a size that can hardly be found in Indonesia elsewhere.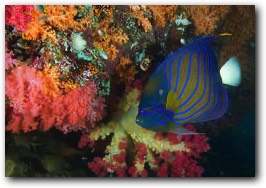 Little Komodo
Gerry Allan named this dive site because it reminded him of his first pioneer dives in Komodo in the 70's. Schools of fish, groupers and schools of barracuda can almost be guaranteed. The growth of black corals, which can be found here at a depth of 5 m, and soft corals is overwhelming. This dive site is an absolute highlight for underwater photographers and filmmakers.
GPS point
This is not just any GPS point, but another dive site with an addictive potential. It can only be dived between tides - at all other times there is a strong current and it is difficult to get down at all. But under water you will find everything Indonesia has to offer in one dive site. The crescent shaped reef is teeming with fish and in several spots large jacks and snappers are spinning in circles.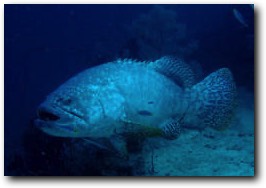 If you haven't had enough of it yet, you will find an underwater cave on the reef plateau that runs through the entire reef and ends on the opposite side at a steep wall.
When diving through, however, you have to reckon with oncoming traffic. Groupers live in this cave, the largest of which have the dimensions of a small car. So you shouldn't be too scared if you decide to venture into the underworld.
Cathy's rock
Cathy's Rock is another top dive site near Little Komodo. This dive site has it all. Beautiful rocky landscapes with a cave under the rock, soft corals almost below the surface, schools of fish and critters. Cathy's Rock is also good for night diving. With a bit of luck you can also see the 'walking shark', a species of shark newly discovered in 2006.

Stumpy Rock
Stumpy Rock is located at the entrance to Triton Bay and is a rock with an offshore mountain at 17m depth. It's teeming with fish here. Large schools of fish constantly pass by, jacks turn in circles and large Napoleon Wrasses do their rounds. Everything is very photogenic - a top dive site for UW photographers.

Disney Land
Disney Land is also an interesting dive in the Iris Strait between Aiduma and the smaller Dramai Island. There are lots of sweetlips and other white snappers in the current here. The many black corals that grow here give the dive site a special attraction.

Other interesting dive sites:

Andy's Rock, 7th Heaven, Terraces, One Tree Island, Batcave, White Rock
Triton Bay: Highlights above water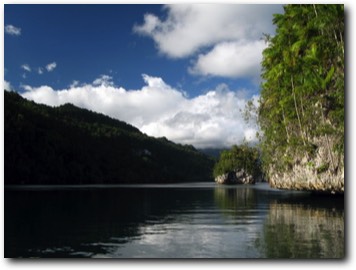 Triton Bay also also has a lot to offer above water. I definitely recommend taking a tour through the island labyrinth inside the bay. If you're not careful you can get lost in a maze of fantastically shaped coral rocks, some with ancient burial sites containing skulls and bones.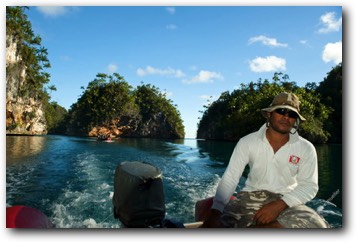 A visit to one of the villages in the bay is also interesting. The locals are hospitable and happy to show guests around their village. Pencils, crayons and notebooks as gifts are gladly accepted.
In the strait between the island of Namatote and the mainland you will find countless rock paintings that are reminiscent of the drawings of the Aborigines in Australia. An exact dating has not yet been made. However, it is assumed that they were painted between 400 B.C. and 100 AD. The mostly ocher-colored drawings depict hands, people, monitor lizards, fish and other figures. On the trip from Triton Bay back to Kaimana you should use the afternoon for a trip to the rock paintings.
Going to Triton Bay by live aboard
Triton Bay is now on the schedules of various dive boats in Indonesia. The following providers are particularly recommended:
Grand Komodo (Ships: Raja Ampat Explorer, Putri Papua)
SMY Ondina
Amira
Pindito
New dive resort in Triton Bay
If you don't want to visit Triton Bay on board of a diving ship, you can now also dive from a diving center in the bay.
Since 2015,
Triton Bay Divers
has been offering accommodation for divers in simple beach bungalows in close proximity to the best dive sites. Resort guests fly to Kaimana via Sorong or Manokwari. From there, the resort's boat will take you to Triton Bay.