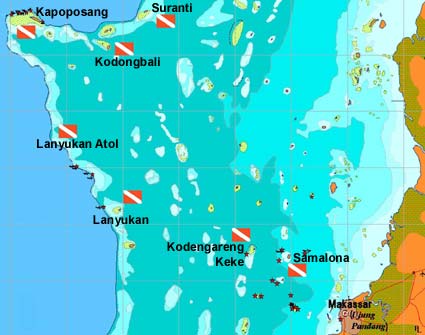 Makassar in
Indonesia
is an excellent base for trips to the group of small islands and atolls that make up the Spermonde Archipelago. There are several daily flights from Jakarta, Denpasar and other major cities to Makassar.
Some islands are densely populated, but some are still uninhabited. The east monsoon season (April - November) is the best period for visiting the Spermonde Archipelago.
Many of the islands close to Makassar show interesting village life and some historical sites can be found on the island of Kodengareng Lompo. Below are descriptions of several islands belonging to the Spermonde Archipelago. Their distance from Makassar is written in kilometers.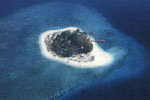 This island is inhabited by a few families and its oval shaped area is about 300 x 600 meters, so it takes only a short stroll to see its complete coastline. Beautiful coral reefs are easily accessible from the shore of Samalona. Diving is the best on west and south side, with a good mix of hard and soft corals. An incredible bio-diversity offers excellent opportunities for macro photographers: batfish, lionfish, scorpionfish, stonefish, mandarinfish, bleuspotted stingrays, lobster, nudibranches, turtle, cuttlefish, pleurobranchus, trevallies, flatworms, anemones...
The large trees on Samalona provide shelter on sunny days. You can relax and enjoy a soft drink or basic meal in the local restaurant.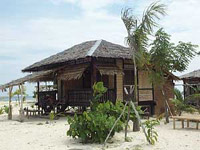 Kodengareng Keke (11 km)
Dolphin Resort built some small cottages on Kodengareng Keke. There is no longer free access to this tiny island. The Dolphin Resort offers only basic facilities. As the island has little vegetation, you will appreciate the verandas of the cottages, which give good shelter on a sunny day. Apart from the wrecks, the island offers some nice coral gardens between 15 and 28 meters.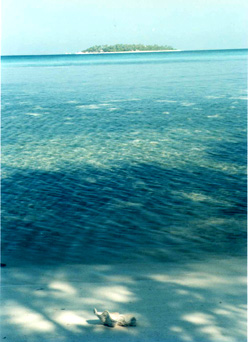 Kodongbali , Tambakulu and Suranti (60 Km)
These 3 islands situated in the North of the archipelago are not often visited at all, similar to Kapoposang and Lanyukan they are situated at the edge of the shelf which drops off a few hundred meters on the sea side, especially Kodongbali has a very nice and undamaged reef top. The edge of Spermonde Archipelago offers plenty of good diving all the way from Suranti in the North to Lanyukan in the East. Large pelagics and reef sharks are very common.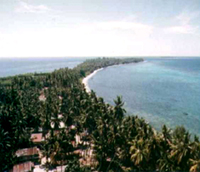 Kapoposang (70 km)
Kapoposang is a beautiful green island of about 2 km length covered with casuarina trees and coconut palms. This island is located at the edge of the Spermonde shelf, pointing toward the deep sea.
It contains some small villages. The people of Kapoposang make their living through fishing and harvesting coconuts. Dive trips to Kapoposang are organized by the Makassar Diving Club (MDC) during weekends.

Lanyukan (37 km)
The island Lanyukan is located on the outer edge of the Spermonde
shelf with a barrier reef protecting its western shore. Around Lanyukan are reefs with steep drop-offs. This is the place to spot big fish like sharks and barracuda. There is a small village on the island but Lanyukan does not offer facilities for staying overnight.