On a live aboard to Jacques Cousteau's base camp
In the east of the Tukang Besi Islands in
Indonesia
there are other small islands and atolls scattered over a large area. Jacques Cousteau's base camp was on Moromaho, a small island on the easternmost edge of this group of islands. From here he explored the diving grounds of the region in the 1980s.
As with most diving trips in the
Banda Sea
, also this area can only be dived safely in the intermonsoon period in April or October.
In April 2002 we visited this part of the Banda Sea on board a diving ship and got to know new and completely untouched coral reefs as in the previous years.
Our 14-day tour took us from Kendari directly to the eastern atolls of the Tukang Besi Archipelago and from there further west via Pasarwajo and Batuata along the east coast of Selayar to Bira.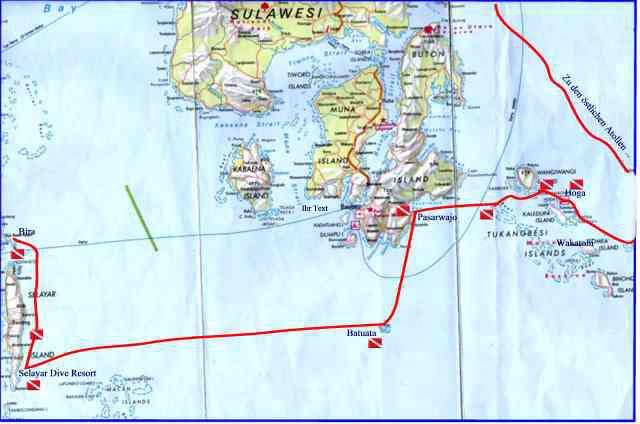 Itinerary to the eastern atolls of the Tukang Besi archipelago
In particular about the eastern atolls there were practically no diving reports, so that with a few exceptions most of our dives were exploratory dives. Even today, live aboards rarely get lost in this seldom-visited part of the Banda Sea.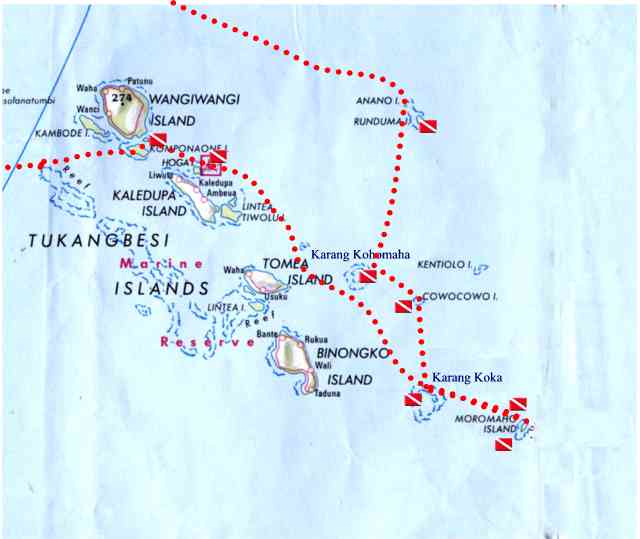 Part of the map: The eastern atolls of the Tukang Besi Islands in the Banda Sea
Ronduma and Karang Kohomaha
We did our first dives off Anano, a small island north of Ronduma. All dives took place on the west side of the island on a wall covered with hard and soft corals and many gorgonians. With a visibility of more than 30 m we were able to see various leaf fish, scorpionfish and turtles during several dives.

The top of the reefs, which we examined extensively at the end of our dives, were particularly beautiful. During a dive on the north-west side in the afternoon directly in front of a beautiful sandy beach, dog-tooth tuna, king mackerel and schools of jacks appeared. A night dive at the same place was unspectacular.
This atoll is about 40 km further south and is situated within sight of
Tomia
.
Nevertheless, fishermen from Tomia rarely get lost here with their small and often unstable boats. We anchored in the interior of the approximately 6 km wide atoll, together with two smaller fishing boats from Kaledupa, which we could watch while they were fishing with lines during the day.
During our stay we dived mainly on the walls in the northwest and northeast of the atoll, where there is also a natural entrance into the lagoon. Strong currents must be expected at this point. On the other hand, this also seemed to be a promising place for large fish encounters.
The dives turned out to be quite varied: slopes with large whip corals and steep walls with overhangs and lots of black corals and gorgonians alternated during the dives.
Here, too, the reef top was - apart from a few places - completely intact and the diversity of hard and soft corals was spectacular.
We saw large tuna, a whitetip reef shark, eagle rays, groupers, barracudas and some turtles.
After a stopover and dive at Pulau Cowocowo, a small island overgrown with palm trees and jungle, we reached Karang Koka.

Karang Koka is even larger than Karang Koromaha and has two natural entrances on the south and northeast side. During our dives, which took place mainly on the north and west side of the atoll, we found steep walls and in some places steep slopes.

The vegetation with hard and soft corals was very dense and varied everywhere. In some places we discovered huge gorgonians and again and again stocks of black corals. We also came across large schools of fish, jacks, dog-tooth tuna, napoleon fish and eagle rays.

Night dives in the lagoon turned out to be less spectacular on the sandy bottom with staghorn coral.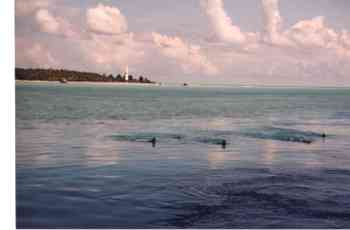 Because of unsafe anchorages, we decided to sail to Pulau Moromaho from Karang Koka and spend the nights in the lagoon.

Moromaho turned out to be a small island overgrown with palm trees that rises steeply from depths of over 400 m. The flat, wide reef top ends abruptly above over 60 m high, steep walls, which then sank further into the depth.
Our ship had to cruise off Moromaho during the dives as there were no natural anchorages to be found.

Our dives on the west side all turned out to be extremely varied. Nowhere else during our trip did we find such large schools of jacks and fusiliers as here.
The walls were jagged, full of overhangs and deep indentations. Everywhere we found large sea fans, black corals and huge tube sponges.

But several times we got into violent currents; after our last dive even into an unpleasant down current.

During a visit of the island it turned out that the island was not uninhabited. In the season there are people who harvest the coconuts and produce dried fish. There should even be water. However, we did not do a test and preferred the desalinated water of our diving ship.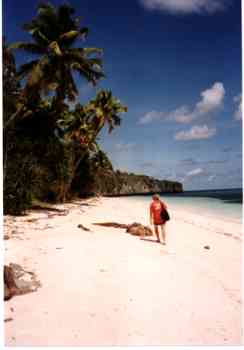 Batuata- Weißer Sandstrand, hohe Kalkfelsen
Batuata or Batuatas means "high rock". The island, halfway between the Tukang Besi Islands and Selayar, deserves its name. On its west side, high limestone cliffs tower up behind a beautiful sandy beach covered with palm trees - an ideal setting for a beautiful South Seas movie.

The island is inhabited and there are occasional contacts with Baubau on Buton. Otherwise the 5 villages on the island are among themselves. Tourists have probably not been seen before us. There was a huge crowd of people greeting us in the village after we had climbed up the cliffs

We arrived in Batuata after making stops at Kaledupa Reef and Pasarwajo in the morning. Nevertheless we did three dives on the west side. Here, too, as practically everywhere during our tour, we found a roughly 50 m deep, strongly fissured wall overgrown with gorgonians and soft corals. We saw several turtles, humphead parrot fish and schools of jacks.

Batuata turned out to be a worthwhile destination for diving trips in the region and also invites you to go ashore because of its picturesque location.
After another night sailing to the west , we reached the southern tip of Selayer near the
Selayar Dive Resort
the next morning. Thanks to the efforts of the diving resort this part of the Selayar coast has become part of the Taka Bone Rate National Park. As a result, visitors have to pay a national park fee and hopefully the protection of this diving area will be improved.
As in the year before, our dives north of the resort at Tanjung Cumi were very varied. We were very impressed by the large schools of barracuda we found there.
On the trip north we had another spectacular sperm whale encounter. The big animal dived right next to our boat.
Bira at the end of our trip left mixed feelings. We finally met sharks in large numbers here, especially off Pulau Kambing and at Cape Bira.
Unfortunately, however, the dynamite fishing, which we were able to observe in previous years, seems to continue with unchanged vigor. During a dive at Cape Bira, we were startled by an strong explosion and a visit to the Mamasa Pinnacles north of Bira, which we had got to know four years ago as a beautifully overgrown underwater ridges, turned out to be a great disappointment. All the flatter parts of the ridge now consisted only of coral debris as a result of dynamite fishing.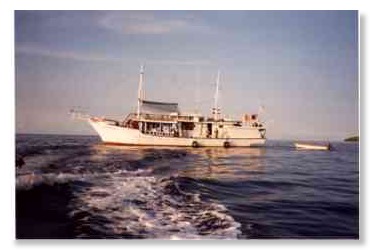 20 years ago, diving ships in Indonesia were very basic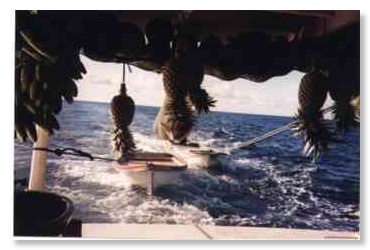 Fresh vegetables and fruit were kept in the stern. At least, we already had a freezer on board