The Islands in the South of Sulawesi
Only in the intermonsoon period from April to mid-May and October to mid-November the islands in the south and southeast of Sulawesi may be dived reasonably safely. During the rest of the time, many of the most interesting reefs of the Taka Bonerate and
Tukang Besi Archipelago
are in the direct range of the monsoon winds due to of their exposed location.
These constantly blowing winds cause very high waves, which make safe anchoring and diving impossible. From a diver´s point of view, on the other hand, this has the advantage that local fishermen can only very rarely reach these remote reefs and atolls with their small boats.
The islands in the south and southeast of Sulawesi include the island of Selayar, the Taka Bonerate archipelago, the island of Buton, the Tukang Besi archipelago and some scattered islands - probably of volcanic origin - which rise up from sea depths of nearly 3000 m between the Taka Bonerate archipelago in the west and the Tukang Besi Islands in the east.
The exposed location of these islands and the lack of any diving infrastructure means that so far only a few divers have been able to visit these remote islands in
Indonesia
. Jacques Cousteau was here in the 1980s. He came to the conclusion that he had found "possibly the best diving area in the world".
In April 2001 we had the chance to get to know a part of this huge area on board of a basic diving ship and to do dives on pristine reefs and steep walls. At that time our ship only had bunks, which were separated from each other by curtains. There was no complete privacy on board. We had to share two showers. Still, we enjoyed these tours.
On a live aboard from Bira to Kendari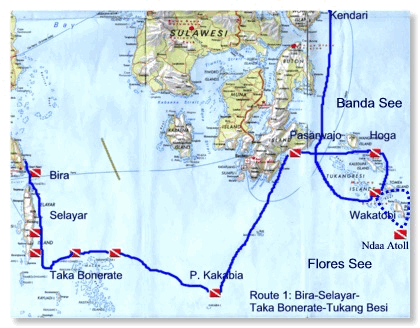 Route 1: From Bira to Kendari
Our route led from Bira along the east coast of
Selayar
to the south and from there to the east into the
Taka Bonerate Archipelago
.
We spent two days in front of
Pulau Kakabia
, halfway between Taka Bonerate and Tukang Besi, to explore the reefs and cliffs of this island in more detail, probably for the first time ever.
From here we went to Buton, where we were able to do interesting dives in Pasarwajo, comparable to the diving in
Lembeh Strait
.
We finally sailed to
Tomia
via
Hoga
to dive in the area of ​​the Wakatobi Dive Resort.
Bira
Our dives around Bira this time turned out to be less spectacular than on our two previous visits. The reason: We saw only a few large fish during our dives at Cape Bira and Pulau Kambing. New for us were dives off the island of Pulau Pasi, north of Selayar. We saw some sharks, schools of fish and on the west side beautiful coral gardens with moray eels and blue spotted rays. A night dive off Pasi had to be canceled because the current was too strong.
Selayar
From Bira we continued our journey south following the east coast of Selayar. On the way we met sperm whales and dolphins and were able to visit a spectacular waterfall.
Our next destination was the
Selayar Dive Resort
on the southeast tip of the island. Jochen Schultheis has built a small resort here on a beautiful, secluded sandy beach.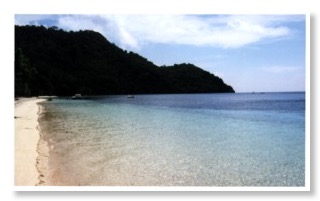 Lonely beach on the house reef of Selayar Dive Resort
He currently has several spacious bungalows with ceiling fan and air conditioning, shower / toilet with hot water and minibar. The guests are picked up from Bira by speedboat. The price of currently € 200 includes accommodation in one of the bungalows with full board, 2 guided boat dives and non-limit diving on the house reef. The transfer from Bira to the resort (2h) is included in the price for one week.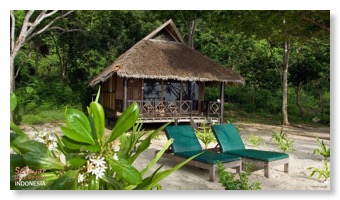 Comfortable bungalows on the beach
All dive sites are on the east side of the island, so you can only dive from October to May. During the east monsoon, the swell is so high that the dive sites cannot be approached.
Our dives north of the resort (Tanjung Cumi) and on the house reef gave us insights into an intact and diverse coral world with many large sea fans, soft and hard corals.
The house reef is a beautiful wall with overhangs and caves. The great depths of the sea in front of Selayar also allow encounters with large fish. Jochen can refer to encounters with barracudas, turtles, groupers, eagle rays, manta rays, reef sharks and even hammerheads.
Taka Bonerate Archipelago
Our next destination was the Taka Bonerate Archipelago. With a total area of 2220 square kilometers, it is the third largest atoll on earth and rises up from a depth of 2000 m.
After about four hours of sailing we reached Pulau Latundo on the northwest side of the atoll.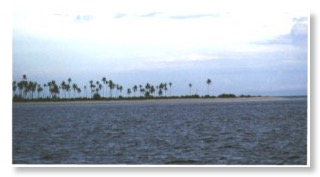 View of Latundo in the Taka Bonerate Archipelago
Our afternoon dive on the west side of the reef led along an endless wall. The visibility was about 25 m and we saw napoleons, sharks, tuna and several blue spotted rays. We named the dive site Snow Reef because the wall was completely powdered with sand from the lagoon area above. But it may also be the result of the excessive dynamite fishing in the interior of the atoll.
The four dives of the following day all took place on the north and northeast side of the atoll. With good visibility, we saw Napoleon Wrasses and some white tip reef sharks in front of Belangang and Taka Lamungan. There were also barracudas and even two two Mobulas near a beautifully overgrown wall in front of Lamungan.
Pulau Kakabia
We reached Pulau Kakabia after a 12 hour night drive. As the first sign of the approaching islands, flocks of birds greeted us, using the thermals early in the morning to screw their way higher and higher. They circled the boat and showed no fear of us intruders.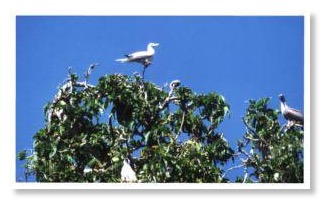 After we found a sheltered anchorage, we were able to conduct our first dive on the northeastern edge of the reef. The first impression was overwhelming:
The visibility was an incredible 40 m and the wall was overgrown with huge gorgonians, large black corals and tube sponges from a depth of 25 m to well over 50 m. Picturesque overhangs and the dense vegetation offered a variety of motifs for underwater photos.
We could not find any damage from dynamite fishing anywhere. Two reef sharks, tuna, schools of jacks and snapper as well as a multitude of small creatures rounded off this first dive off Kakabia. We named the dive site Gorgonian Forest and did a total of three dives on this wall in different sections. Sometimes we had to struggle with changing, strong currents.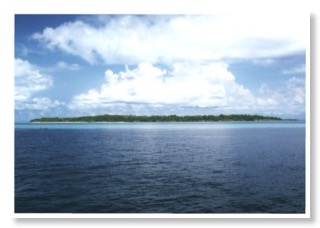 We spent two days in front of Kakabia to get an overview of other dive sites. All further dives confirmed our first impression:
Pulau Kakabia is a top dive site with incredible visibility, high biodiversity and still completely untouched reefs.
Pasarwajo, Buton
After a calm 12-hour night drive, after staying for two days in Kakabia we reached more civilized areas again. At first glance, Pasarwajo on Buton offers little of interest. Simple houses and huts on the beach and in front of them a multitude of boats in the water and boat buildings on the beach.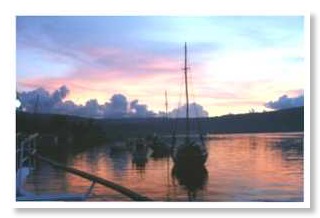 Pasarwajo
After having been spoiled in Kakabia, the water also looked uninviting at first glance. However, underwater there is real competition to the famous Lembeh Strait in North Sulawesi. During our dives of up to 100 minutes in water depths between 20 and 1 m, we felt very much reminded of our dives in Lembeh Strait.
We saw many different nudibranchs, different species of lionfish (including dwarf lionfish), scorpion fish, helmet gurnards, cockatoo wasp fish, leaf scorpion fish, lancet fish, striped coral catfish, various pipefish, crocodile fish, mantis shrimp and, on a night dive, spanish dancers.