Diving in Bira
Until September 1997 there was a real shark highlight in the
Indonesian
diving sky: Bira, a small town in the extreme south of Sulawesi, became a real insider tip for divers after two Germans had opened a diving center there. In addition to extensive sandy beaches, the waters around Bira and the offshore islands offered a new top-class diving area in Indonesia.
Our dives in the summer of 1997 were among the best we have done in Indonesia. At our favorite dive site, Cape Bira, we regularly saw a lot of grey reef sharks, great white and black tip sharks and even huge hammerheads showed up occasionally.
We regularly saw Napoleons, large groupers, barracudas, eagle rays and tuna. April / May / June is whale shark season and from August manta rays can be seen frequently.
In addition, there are some walls that are worth seeing, which do not have to fear comparison with Manado.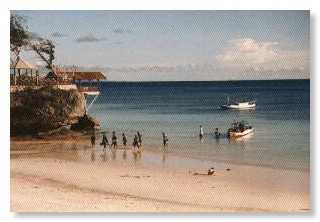 Bira Beach - Rocks and sandy beach
Bira offers diving opportunities for beginners and advanced divers. However, the currents at the most interesting dive sites are sometimes very strong and therefore only suitable for experienced divers. The ride to the dive sites takes place at high tide from the shallow beach. Most of the spots are between 15 and 120 minutes away. The boats used are relatively small and, due to their flat construction, react to every wave, which can be uncomfortable on longer trips.
The water was extremely cold (23-24 ° C) during our stay in August. We froze miserably in our 3mm suits. It is therefore advisable to use 5mm suits during the cold season. However, the water temperature depends on the monsoons. It is very high again from September to April. It therefore makes sense to find out about the temperature conditions on site before arriving.
Since September 1997 the situation in Bira has changed radically. The German diving center is closed. The two Germans were expelled from the country after conflicts with the local rulers. The attempt of the Bira Beach Hotel to continue the dive center with Indonesian staff finally led to a catastrophe in December 1997.
A group of five Japanese divers and their inexperienced guide got caught in a strong current off the island of Pulau Kambing and could not be found even after several weeks of searching. Only the guide survived and was found 24 hours later on the beach of an island in the Gulf of Bone. The Indonesian press, perfidiously blamed the two Germans for this accident, although at the time of the accident they had not been in the country any more for over 2 months.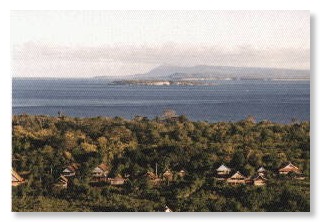 View of the offshore islands
Unaware of this fatal accident, we returned to Bira in April 1998. In addition to a "Missing Japanese Tour" the Bira Beach Hotel also offered diving excursions, but under conditions that were anything but trustworthy. There was a ragbag of different, old 10 l and 12 l steel and aluminum tanks and a compressor that gave up after three days, so that the tanks had to be filled every day in Makassar (Ujung Pandang). Our "guide" came from Manado, had just 60 dives in his log book and did not know the dive sites.
During another visit in the summer of 2001, we could only realize that unfortunately little had changed in the overall situation. The Bira Beach Hotel still offered dives. The compressor was still the old one, which had already not worked satisfactorily in 1998 and the dive guide was not sufficiently qualified. The price for a dive was also much too high at (possibly negotiable) US $ 35.
If nothing changes in these general conditions, we can only urgently advise against diving with the Bira Beach Hotel.
Elvis Mielke
with his dive center South Sulawesi Divers came out on top in the scuba diving ratings. It is located on the western edge of the large beach of Bira. In the
Mangga Lodge
, which is part of the diving center, you can spend the night in air-conditioned rooms or comfortable bungalows. Depending on the room category, you pay between 90 and 100 € / day for an overnight stay with breakfast and 2 boat dives.
Between October and March, Bira is an ideal starting point for diving and sailing trips to Selayar and the Takabonerate archipelago. During this period there are always many traditional sailing schooners in the port of Bira, which offer tours of several days to Selayar and beyond for little money.