Papua Barat, as West Papua is called in Indonesian, is the "Wild East" of
Indonesia
. Even getting there is not easy. The further east you advance, the more rickety the vehicles and planes become. Calculate at least two additional days for arrival and departure. The best way is from Europe is via Singapore with Scoot Airlines to Manado. Alternatively, you can fly to via Jakarta and then to Sorong on board of other Indonesian airlines. In any case, an additional overnight stay in Manado or Jakarta is required.
Travelers to West Papua should always have enough time to be able to reach important international flights in the event of flight delays or cancellations.
West Papua is a high-risk area for malaria. Malaria prophylaxis is mandatory.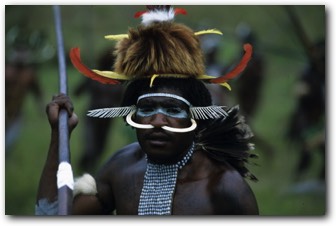 These adversities aside, West Papua is a fascinating travel destination. Impassable jungle still covers most of the island and there are completely unexplored regions where people still live like in the Stone Age. A tourism infrastructure does only rudimentary exist. Travel to Biak, Jayapura and the Baliem Valley is fairly straightforward. However, if you want to travel off the beaten track, you need a lot of time, good physical condition and, above all, a lot of money to be able to charter planes and longboats to get to remote destinations.
Traveling in Papua is strictly regulated. Tourists need a police permit (Surat Jalan) to visit inland destinations. On this Surat Jalan all places of the journey must be entered exactly. Travelers are required to report to the local police at their destination using this permit. Two current passport photos and several copies of the passport are required for the issuance.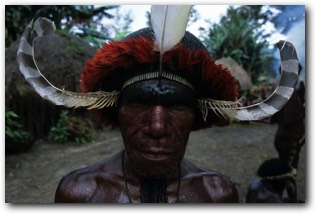 Some regions have been declared to no-go areas for tourists due to the intensification of activities by the Papua Liberation Organization Organisasi Papua Merdeka (OPM) in recent years.
After the chairman of the Papuan Council, Theys Hiyo Eluay, was murdered by members of the Indonesian army's feared Kopassus unit at the end of 2002, unrest and looting broke out in several regions of the island, including Biak, Sentani and also Wamena in the Baliem Valley. The hatred of the native Papuan population against the Indonesian occupiers can be felt everywhere.
During a visit in August 2003 we even met armed OPM activists in the Baliem Valley. At the same time, we found evidence that members of islamist terrorist organizations such as Jemaah Islamiah and Laskar Jihad were invading this predominantly Christian region under the protection of the Indonesian army. In the south of the Baliem Valley, for example, we encountered a newly built mosque and heavily armed young people from East Java who clearly belonged to fundamentalist organizations.

The website of your Foreign Office should provide reliable and up-to-date information about the current security situation in West Papua.

Current information about Raja Ampat can always be found in the BodeBlog.